"Hic Rhodus, hic salta!"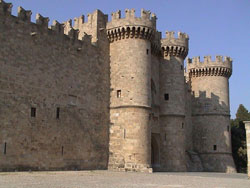 The island of Rhodes is located at the crossroads of two major sea routes of the Mediterranean between the Aegean Sea and the coast of the Middle East, as well as Cyprus and Egypt. The meeting point of three continents, it has known many civilizations.
Rhodes is the largest island in the Dodecanese, with population of about 117,007 citizens. The 53,709of them resided in the capital city of the island. The capital city, located at its northern tip, is also the capital of the Dodecanese Prefecture with the Medieval Town in its centre.
In 1988 the Medieval Town was designated as a World Heritage City. The Medieval Town of Rhodes is the result of different architectures belonging to various historic eras, predominantly those of the Knights of St. John.
The island of Rhodes is shaped like a spearhead, 79.7 km (49.5 mi) long and 38 km (24 mi) wide, with a total area of approximately 1,400 square kilometres (541 sq mi) and a coastline of approximately 220 km (137 mi). The main air gateway (Diagoras International Airport, IATA code: RHO) is located 14 km (9 mi) to the southwest of the city in Paradisi. The road network radiates from the city along the east and west coasts.
Rhodes is closer to Asia Minor than to the rest of Greece. The interior of the island is mountainous, sparsely inhabited and covered with forests of pine (Pinus brutia) and cypress (Cupressus sempervirens). The island is home to the Rhodian deer. In Petaludes Valley (Greek for "Valley of the Butterflies"), large numbers of tiger moths gather during the summer months. Mount Attavyros, at 1,216 metres (3,990 ft), is the island's highest point of elevation. While the shores are rocky, the island has arable strips of land where citrus fruit, wine grapes, vegetables, olives and other crops are grown.
Outside of the city of Rhodes, the island is dotted with small villages and beach resorts, among them Faliraki, Lindos, Kremasti, Haraki, Pefkos, Archangelos, Afantou, Koskinou, Embona (Attavyros), Paradisi, and Trianta (Ialysos).